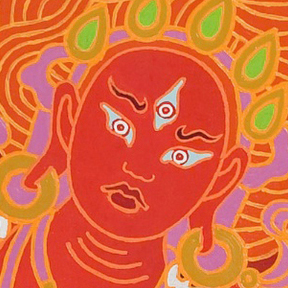 10-Day Practice Intensive
This year Shambhala Day is Monday, February 24, marking the beginning of a new annual cycle. To dispel the karmic accumulation of personal, social, and environmental chaos at the year's end, all students are encouraged to practice as much as possible in the ten-day period leading up to Shambhala Day. In particular, we are encouraged to recite the mamo chants together, beginning eleven days before Shambhala Day.
Pacifying the Turmoil of the Mamos is an elaborate protector offering traditionally recited from the 20th through the 29th days of the last lunar month of the Tibetan year. By reciting the chant, we tune into the protector principle of awareness and reconnect with sacred outlook.
This year, however, we will only recite the mamo chant 21 times on the first and last days of the practice intensive (Feb. 13 & 22). On the intervening practice days we will chant the daily protector chants once after a period of shamatha meditation. On Wednesday, Feb. 19, instead of our weekly Open House and dharma talk, we will simply meditate and close with our protector chants.

The day before Shambhala Day—Sunday, February 23—is considered a neutral day and is a traditional time to clean and refresh one's home and shrines in preparation for the coming year.
This practice is open to all, and there is no charge.
Schedule: