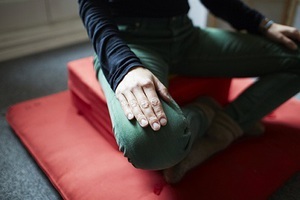 Meditation for Daily Living: A Course for Beginners
with Ciprian Iancu
Open to All
"By making a deep connection to the present moment and understanding our mind through the practice of meditation, we learn to make friends with ourselves…"
While meditation has many benefits, establishing a consistent personal practice can be extremely challenging for both new and experienced meditators alike. In that spirit, the Shambhala Meditation Center of Washington, DC presents the Meditation for Daily Living course.
This 4-week mindfulness meditation program is designed to help new meditators develop a regular practice and bring the benefits of mindfulness meditation to their daily lives. As we begin to practice on a regular basis, we learn to relax and embrace the full richness of our human experience, with confidence, dignity, and patience. Over time, this practice helps us to cultivate courage, humor, and stability in the face of the challenges and complexities of jobs, relationships, and all aspects of daily life.
Four 2-hour-long classes cover the following ground:
Class 1: Posture and foundations of meditation
Class 2: Mindfulness and awareness of thoughts and emotions
Class 3: Classic obstacles to meditation (and their antidotes)
Class 4: Bringing mindfulness into daily life (and the wider world)
As a theme throughout the course, we'll explore how creating stability and gentleness in our minds can expand outward to benefit our friends, family, neighbors, and society as a whole.
About the Teacher:
Ciprian Iancu is one of the younger generation dharma teachers trained in the Shambhala community to teach meditation and lead programs. He has been practicing meditation for over twenty years, and has led programs throughout the northeast US; Birmingham, Alabama; and Cape Town, South Africa. He served as the co-executive director of the Shambhala Meditation Center of New York for three years, and taught Buddhist meditation at the New School University. He lives in DC, and in his professional life works in the fields of human rights and technology.
Registration Deadline: Tuesday, September 8, 2020.

Register and pre-pay early to reserve your spot.
---
Patron Price: Please register with the Patron Price if you are able. By offering a little more, you help make programs accessible to participants with less financial means. Thank you!

Sustaining Price: This price is the amount per participant required for the Shambhala Center to cover the costs of the program.

Subsidized Price: This price allows people with less financial means to attend programs at a discounted rate, supported by the contributions at the 'Patron Price' level.
Generosity Policy: Our Generosity Policy is an option for participants in unique situations for whom none of the above options are appropriate, and helps make programming available to all those who wish to participate. If the subsidized rate is prohibitive for you, the Generosity Policy allows you to offer as much of the fee as you can based on your individual circumstances. Please consider the value of the program and practice generosity at the level appropriate for you. To utilize the Generosity Policy, please email the Registrar at [email protected] before the program. We cannot accept Generosity Policy registrations at the door, so please make arrangements in advance.


If you have questions, please contact us at [email protected].