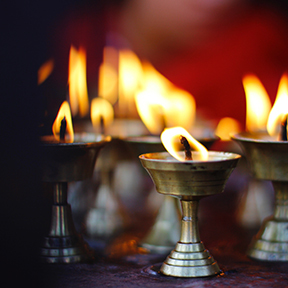 Training the Mind and Awakening the Heart: The Practice of Lojong ONLINE
with Jerry Webster & Anyana Banerjee
Open To All!
Buddhism is known for its teachings on kindness and compassion. Yet translating study and meditation into concrete methods of connecting with and benefiting others requires training. Lojong—which means 'mind training' in Tibetan—provides a potent framework for bringing kindness and compassion into daily life, and for training the mind in disciplines necessary to extended ourselves to others and counter the limitations of ego. Presenting profound techniques of cultivating compassion and pith reminders for how we can awaken and act with kindness in each moment, the lojong teachings are an indispensable set of tools for cultivating bodhichitta, the awakened heart of compassion and wisdom.
This course invites all levels of practitioners to build community, deepen our understanding, and strengthen the application of the mahayana teachings in our lives and in our community. We will study and explore the seven points of mind training with Atisha's lojong slogans. Participants will learn tonglen, the practice of sending and taking, and will have the opportunity to learn from one another through experiential exercises, conversation and dialogue.
Above all, the community of learners will proceed experientially in practicing tonglen, and in understanding emptiness, compassion, and kindness. Class meetings will focus on dialogues and exercises that can bring out new insight into how it feels to experience and practice kindness and compassion.
It is our aspiration that this course will promote soothing and connection in our community in a "cradle of loving kindness." By deepening our understanding of these teachings, we can work towards healing and strengthening ourselves and all of our relationships.
Course Texts and Materials
Training the Mind and Cultivating Loving Kindness, Chögyam Trungpa
Tonglen: The Path of Transformation, Pema Chödrön
---
Registration Deadline: Monday, November 2, 2020.

Register and pre-pay early to reserve your spot.
---
Patron Price: Please register with the Patron Price if you are able. By offering a little more, you help make programs accessible to participants with less financial means. Thank you!
Sustaining Price: This price is the amount per participant required for the Shambhala Center to cover the costs of the program.
Subsidized Price: This price allows people with less financial means to attend programs at a discounted rate, supported by the contributions at the 'Patron Price' level.
Generosity Policy: Our Generosity Policy is an option for participants in unique situations for whom none of the above options are appropriate, and helps make programming available to all those who wish to participate. If the subsidized rate is prohibitive for you, the Generosity Policy allows you to offer as much of the fee as you can based on your individual circumstances. Please consider the value of the program and practice generosity at the level appropriate for you. To utilize the Generosity Policy, please email the Registrar at [email protected] before the program. We cannot accept Generosity Policy registrations at the door, so please make arrangements in advance.
If you have questions, please contact us at [email protected].