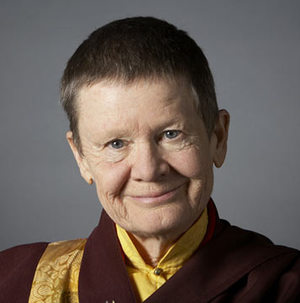 Making Friends With Yourself: Pema Chödrön Video Seminar
Open to all!
Are you hard on yourself when remembering past mistakes and hurts? Do you have a strong inner critic who judges and doubts your thoughts, choices, and self-worth? Do you compare yourself to others and feel disappointed with who you are versus who you "should" be? Do you feel stuck repeating old, unhealthy patterns? Do you experience feelings of shame and unworthiness, as if there is something fundamentally wrong with you? Do you sometimes feel like you don't even know who you are? If you answered yes to any of the above questions, then this course is for you.
Pema Chödrön has spent over forty years guiding people in making friends with themselves and discovering their own basic goodness. In this video course, recorded in the intimate setting of Gampo Abbey, her home in Cape Breton, Nova Scotia, Pema shares the Buddhist teachings that get to the heart of how our sense of self develops and functions.
We all have habits of reactivity that hook us and cause us pain. Blending traditional Buddhist teachings with real-life stories, infectious humor, and deep insight into modern life, Pema shows how we can transcend the negative patterns and attachments that are at the root of our suffering. By befriending ourselves and becoming intimate with our deepest vulnerabilities, we create an opportunity for experiencing life fully.
These deep teachings into the true nature of self come from a master teacher beloved by thousands. Join Pema as she guides us in dissolving the barriers we place between ourselves and the world around us and reveals for us the ground of basic goodness, where we can live with limitless joy, wisdom, and compassion toward ourselves and all beings.
This video seminar will include weekly readings, meditation instruction, and guided practice, and be facilitated by experienced teachers from DC Shambhala Center.
Registration Deadline: Monday, Septmber 7, 2020.

Register and pre-pay early to reserve your spot.
---
Patron Price: Please register with the Patron Price if you are able. By offering a little more, you help make programs accessible to participants with less financial means. Thank you!
Sustaining Price: This price is the amount per participant required for the Shambhala Center to cover the costs of the program.
Subsidized Price: This price allows people with less financial means to attend programs at a discounted rate, supported by the contributions at the 'Patron Price' level.
Generosity Policy: Our Generosity Policy is an option for participants in unique situations for whom none of the above options are appropriate, and helps make programming available to all those who wish to participate. If the subsidized rate is prohibitive for you, the Generosity Policy allows you to offer as much of the fee as you can based on your individual circumstances. Please consider the value of the program and practice generosity at the level appropriate for you. To utilize the Generosity Policy, please contact [email protected] before the program. We cannot accept Generosity Policy registrations at the door, so please make arrangements in advance.
If you have any other questions, please contact us at [email protected].