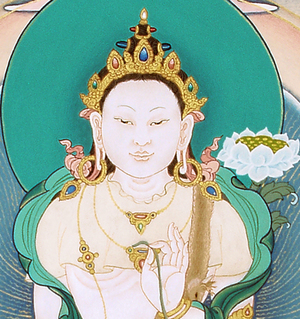 The Four Immeasurables: Cracking Open the Heart of the Buddhist Way - ONLINE
with Jerry Webster
Open to All!
Few books serve to so simply and yet deeply introduce students to the tenets and practices of the Four Immeasurables of Buddhism - loving-kindness, compassion, empathetic joy, and equanimity - as Pema Chodron's The Places That Scare You and Thich Nhat Hahn's At Home in the World. In addition to analyzing the two books, the purpose of this course is to provide both a conceptual and experiential framework to allow participants to move forward in understanding and implementing these contemplative teachings and practices into daily life. If we acknowledge the love, compassion, joy and equanimity that we can feel now and nurture each through these practices, the expansion of those qualities will happen naturally by itself.
The fruition lies in beginning to realize our kinship with all of humanity.
The course includes guided meditation and lively dialogues.
Books can be purchased online or at most bookstores.
About the Teacher:
Shastri Jerry Webster first encountered the dharma during a three-month journey in India while serving as a Peace Corps Volunteer in Afghanistan (1973-1975). In 1976 he became a member of the Burlington Dharma Group. Subsequently, at the Washington DC Shambhala Center, he served as Education Coordinator (nine years), Shambhala Dean of Education (seven years), and Warrior (five years). He received his Ph.D. in Curriculum and Instruction from the University of Maryland in 1999 and has taught numerous university courses in literature and the arts and in multiculturalism, as well as teaching English and Leadership in the public school system for 40 years. In 2010, he was appointed as Shastri for Washington, D.C.

Registration is open for this program.

Register and pre-pay early to reserve your spot.
---
Patron Price: Please register with the Patron Price if you are able. By offering a little more, you help make programs accessible to participants with less financial means. Thank you!

Sustaining Price: This price is the amount per participant required for the Shambhala Center to cover the costs of the program.

Subsidized Price: This price allows people with less financial means to attend programs at a discounted rate, supported by the contributions at the 'Patron Price' level.
Generosity Policy: Our Generosity Policy is an option for participants in unique situations for whom none of the above options are appropriate, and helps make programming available to all those who wish to participate. If the subsidized rate is prohibitive for you, the Generosity Policy allows you to offer as much of the fee as you can based on your individual circumstances. Please consider the value of the program and practice generosity at the level appropriate for you. To utilize the Generosity Policy, please email the Registrar at [email protected] before the program. We cannot accept Generosity Policy registrations at the door, so please make arrangements in advance.


If you have questions, please contact us at [email protected].