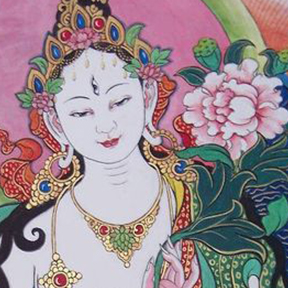 White Tara: Lung, Explanatory Talk, and Practice
with Shastri Jerry Webster
Open to All - ONLINE ONLY

White Tara meditation practice is said to grant health, courage, patience, peace, and acuity. The practice is not an escape, a retreat, from our personal problems, but a conduit to offer our love and compassion to the world, a good practice for any time, especially in this time of coronavirus. The lung gives an authorization to do this practice to anyone who hears it, both for Shambhala members and non-members. One can be a beginning practitioner and receive it. There will be practice sessions as part of the transmission. You may attend either one or both of the sessions. People who have previously received the lung also are highly encouraged to attend.
There is no fee for the transmission program. After receiving the transmission, one is able to purchase a copy of the practice from Shambhala Media for $14 plus shipping fee.
Please pre-register for this event. Thank you!