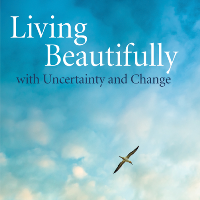 Living Beautifully with Uncertainty and Change
with Jerry Webster
We live in difficult times with uncertainty. Why shouldn't we cling to familiar patterns and habits if they provide us some degree of certainty? Because, as Pema Chödrön teaches, that kind of fear-based clinging keeps us from the infinitely more satisfying experience of being completely alive. The teachings presented in this course, known as the three commitments, which are based on the original teachings of the Buddha, provide a path to enter more fully into one's life.
One often hears that one enters a meditation course to learn to relax. Although relaxing is often one of the byproducts of Buddhist meditation, the true purpose is to be present in one's life more fully, being present on the dot rather than being riveted about according to one's hopes and fears. It is about being open to whatever arises in one's life. It is only by fully living in the present that one can truly live one's life.
This is not a religious course, but it is about working with techniques that will allow one to enter one's life more fully. Meditation is making friends with oneself and developing compassion towards others. Each week participants will have the opportunity to work with personally introducing a new commitment in their own life.
Materials: The course integrates and unpacks readings from Pema Chödrön's book Living Beautifully with Uncertainty and Change, which is available for purchase from numerous sources online. Participants are strongly encouraged to acquire a copy of the book for the course.
Prerequisite: None
If you have any questions, please contact us at [email protected]
Pema Chödrön is a leading exponent of teachings on meditation and how they apply to everyday life. She is widely known for her charming and down-to-earth interpretation of Tibetan Buddhism for Western audiences.
Pema studied under the meditation master Chögyam Trungpa Rinpoche, and is the resident teacher at Gampo Abbey, Cape Breton, Nova Scotia, the first Tibetan monastery for Westerners. She has written several books: "The Wisdom of No Escape", "Start Where You Are", "When Things Fall Apart", "The Places that Scare You", "No Time to Lose" and "Practicing Peace in Times of War"
Patron Price: Please register with the Patron Price if you are able. By offering a little more, you help make programs accessible to participants with less financial means. Thank you!
Sustaining Price: This price is the amount per participant required for the Shambhala Center to cover the costs of the program.
Subsidized Price: This price allows people with less financial means to attend programs at a discounted rate, supported by the contributions at the 'Patron Price' level.
Generosity Policy: Our Generosity Policy is an option for participants in unique situations for whom none of the above options are appropriate, and helps make programming available to all those who wish to participate. If the subsidized rate is prohibitive for you, the Generosity Policy allows you to offer as much of the fee as you can based on your individual circumstances. Please consider the value of the program and practice generosity at the level appropriate for you. To utilize the Generosity Policy, please email the Registrar at [email protected] before the program. We cannot accept Generosity Policy registrations at the door, so please make arrangements in advance.
If you have questions, please contact us at [email protected].