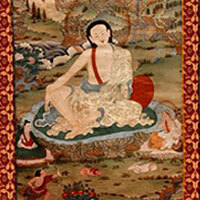 Milarepa Day (Online)
During this annual commemoration of the life and enlightenment of Milarepa, we chant the songs and stories of realization of our Kagyü lineage forefathers, which are collected in the text, The Rain of Wisdom. These songs were composed spontaneously out of the spiritual understanding of many great Kagyü teachers, including Milarepa. They express deep insight and heartfelt devotion, and their beauty and intensity have made them famous in Tibetan literature. These songs and stories can be deeply inspirational for practice and everyone is welcome to join. Because we will all be joining via Zoom, you can come and go during the day.
We will be sharing the text on-screen so you do not have to have a copy of your own.
Schedule

| | |
| --- | --- |
| 8:45 | Zoom room open |
| 9:00 – 10:00 | Opening Chants, Milarepa Sadhana |
| 10:00 - 12:00 | Rain of Wisdom Reading |
| 12:00 – 12:45 | Lunch Break |
| 12:45 – 5:45 | Rain of Wisdom Reading |
| 5:45 – 6:00 | Protector and Closing Chants, Milarepa Sadhana conclusion |
If you would like to sign up to be a reader and/or umdze, please add your name to a time slot on the sign-up sheet. If you only want to take on one role, please indicate that in the Notes.
"Needless to say, these songs should be regarded as the best of the butter which has been churned from the ocean of milk of the Buddha's teachings. Reading these songs, or even glancing at a paragraph of this literature always brings timely messages of how to conduct oneself, how to discipline oneself, and how to reach accomplishment".
--Chögyam Trungpa, Rinpoche (from the Foreword of The Rain of Wisdom)
In general, all dharmas are mind.
The guru arises from mind.
The guru is nothing other than mind.
Everything that appears is the nature of mind.
This mind itself is primordially nonexistent.
In the natural state, unborn and innate,
There is nothing to abandon by discursive effort.
Rest at ease, naturally, without restriction.
(Excerpt from The Rain of Wisdom, "The Grand Songs of Lord Marpa")
Zoom Information
Time: Feb 27, 2021 08:30 AM Eastern Time (US and Canada)
Join Zoom Meeting
https://us02web.zoom.us/j/86702781873?pwd=aS9IL0IvNXpBeU5oUlB0eUlFNDN0QT09

Meeting ID: 867 0278 1873
Passcode: 336248

Join by Skype for Business
https://us02web.zoom.us/skype/86702781873