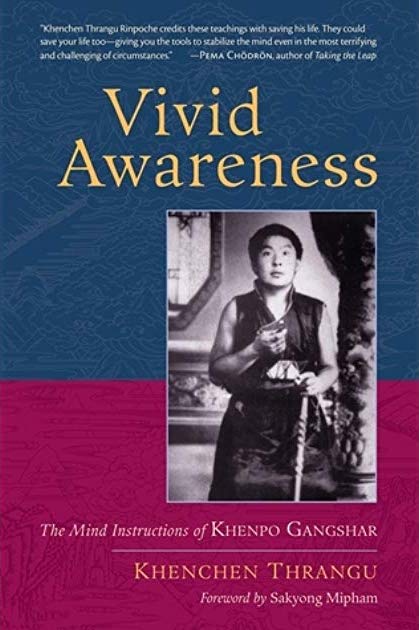 A Guided Study of Khenchen Thrangu's Work: Vivid Awareness: The Mind Instructions of Khenpo Gangshar
with Jerry Webster
This program is open to anyone whose interest is piqued by the following course description:
Revered 20th century meditation master Khenpo Gangshar, one of the two root gurus of Chogyam Trungpa Rinpoche, offered teachings on understanding joy and suffering, resting the mind, and cultivating equanimity in a most challenging time, namely when the Chinese Communist Government attacked and eventually subjugated Gangshar's native kingdom of Tibet.
Join us for a guided study of the book Vivid Awareness led by senior teacher Jerry Webster, who will help unpack both Khenpo Gangshar's talks and practices and author's Khenchen Thrangu Rinpoche's commentary on Gangshar's words. The class will process Gangshar's teachiings in a way that applies also to our contemporary lives.
Trungpa Rinpoche and Thrangu Rinpoche were both present at these talks given by Khenpo Gangshar. As to Trungpa's view of Thrangu Rinpoche, Trungpa once said of Thrangu that he had "an absolutely pristine mind."
Copies of the book which are required for the class are available for personal purchase through online resources, such as Amazon and Barnes & Noble.
The following comes from the back cover of Vivid Awareness: "In the summer of 1957, the revered Buddhist teacher and scholar Khenpo Gangshar foresaw the difficulties that would soon fall upon Tibet and began teaching in a startling new way that enabled all those who heard him to use the coming difficulties as the path of Dharma practice. The teaching consisted of the essential points of mahamudra and dzogchen, both view and practice, presented in a way that made them easy for anyone to use, even in the most difficult of circumstances.
Khenchen Thrangu Rinpoche was one of the grateful recipients of these teachings, which he regards as among the most important he has ever been given. He transmits them here, for the benefit of all of us who strive to practice in challenging times. They include contemplations on the ephemeral nature of both joy and suffering, meditations for resting the mind, and guidance for cultivating equanimity in any situation."