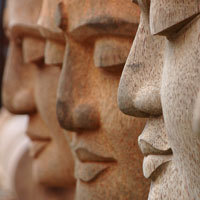 Compassion Practice
with Tamara Bouret
A weekly online practice session with Buddhist Teacher and Meditation Instructor, Tamara Bouret
In this moment of great pause, we find ourselves facing unprecedented change, sickness, loss, isolation and grief. Some may embrace this full stop as the beginning of better things to come while others are experiencing deep despair as their very existence is threatened.
Living with the anxiety and fear of the unknown can be overwhelming. Not only are we concerned for ourselves and our loved ones, we are also witnessing suffering and heartbreak on a global scale. In this moment, we ask ourselves: How can we process all of these feelings and emotions and simultaneously arouse compassion for the all-pervasive suffering in the world?
You're invited to join us as we deepen our meditation practice and work with cultivating loving-kindness and compassion for ourselves and all beings through the meditation practice of Tonglen.
By synchronizing body and mind through the practice of Tonglen, we learn to embrace rather than reject the unwanted and painful aspects of our experience. We can work with fear to develop greater empathy for ourselves and others. Through this practice, we become more in tune with our world and the joy and suffering of life.
Schedule:
8:00-8:15am: Shamatha practice/ Reading of names/ Four Limitless Ones
8:15-8:35am: Guided Tonglen practice
8:35-8:45am: Shamatha / Dedication of Merit
8:45-9:30am: Discussion
Download Contemplative Practice Handout
How to Join a Session
These sessions will be held online using Zoom. In the interest of privacy and security, we are not posting the Zoom link here, but instead ask that you contact Tamara via e-mail and request an invitation to join. She will e-mail back a registration invitation. Once you have registered for the Zoom session, you will be provided with a unique link that only you can use to attend any or all weekly sessions.
Recommended, but not required:
During this practice deep emotion could surface, while brief meditation instruction will be given, we recommend having some prior meditation experience. If you would like to receive in-depth meditation instruction, please visit our website schedule for our monthly Learn to Meditate classes.
Recommended Reading:
Tonglen —The Path of Transformation. Pema Chodron. 2001. Kalapa Publications. Available from our bookstore for $20.00.
Questions?
Please contact Tamara by e-mail.
---
This is a free online weekly offering; however, we very much rely upon and appreciate generous donations.
Please consider making a donation in any amount that feels right for you!
Thank you!