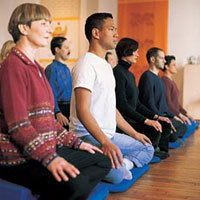 Learn to Meditate - Online
with Jayne Sutton
Open to All - ONLINE ONLY
Learn to Meditate provides a thorough introduction to the fundamentals of mindfulness meditation practice. The session includes instruction and guidance suitable for both first-time and returning visitors.
The program presents the purpose and benefits of meditation, provides detailed guided instruction in the technique, and includes time for Q&A and discussion with an experienced instructor.
Please pre-register for this event. Thank you!
Patron Price: Please register with the Patron Price if you are able. By offering a little more, you help make programs accessible to participants with less financial means. Thank you!
Sustaining Price: This price is the amount per participant required for the Shambhala Center to cover the costs of the program.
Subsidized Price: This price allows people with less financial means to attend programs at a discounted rate, supported by the contributions at the 'Patron Price' level.
Generosity Policy: Our Generosity Policy is an option for participants in unique situations for whom none of the above options are appropriate, and helps make programming available to all those who wish to participate. If the subsidized rate is prohibitive for you, the Generosity Policy allows you to offer as much of the fee as you can based on your individual circumstances. Please consider the value of the program and practice generosity at the level appropriate for you. To utilize the Generosity Policy, please contact our Head of Finance at [email protected] before the program. We cannot accept Generosity Policy registrations at the start of the program, so please make arrangements in advance.
If you have any other questions, please contact us at [email protected].